En découvrant une multitude d'artistes grâce à ses podcasts Love.Play Radio, c'est tout naturellement que je me suis intéressé à la personne qui s'occuper de tout ça.
Je suis entré en relation avec Md Asri aka Robo X sur les réseaux sociaux, un passionné de musique House qui vit à Singapour. Nous avons discuté et pour marquer le coup il signe le PépitesTroniques Podcast #09 !

Lisez l'interview ci-dessous et lancez le podcast NOW!

Bastien de Pépites Troniques : Hello Robo x comment vas-tu ?
Hey Robo X how are you?
Robo X : Je vais bien comme d'habitude.
i'm pretty good as always.
Est-ce que tu peux te présenter ?
Could you introduce yourself?
Je suis Asri aka Robo X. Je suis dj et producteur à Singapour. Je gère une marque de vêtement qui s'appelle Karotz Clothing et aussi je dirige Love.Play Radio une radio podcast.
I'm Asri, I go by Robo X. I am a DJ/Producer from Singapore. I run a clothing line : Karotz clothing as well as a radio podcast Love.Play Radio.

Yeah Love.Play Radio ! Depuis quand es-tu tombé amoureux de la House Music ?
Since when are you falling love with house music?
Je dirais que j'ai commencé à écouter de la House en 2007, à cette période je faisais énormément la fête. On peut dire que c'est là que je suis tombé amoureux de la musique House.
I would say i started listening to house music in 2007 where i partied a lot. I guess you can say that is when I fall in love with house music.
Comme tu l'as dis plus haut, tu as lancé Love.Play Radio. Tu peux nous en dire un peu plus sur ça.
You run Love.Play Radio. Tell us all we have to know about it!
À la base c'est au rythme d'un podcast par semaine signé de djs à travers le monde. C'est histoire de laisser une empreinte et de célébrer la musique underground. Et aussi faire découvrir aux auditeurs l'univers de la musique underground.
Well, basically it's a weekly radio podcast thing where i get DJs around the world to submit their mixes to celebrate underground music. And also for the listeners to be open to underground music.
Quelles sont tes influences ?
What are your influences?
La Deep-House. J'aime la Deep-House de Dixon à Mano Le Tough. Ces artistes là sont ma source d'inspiration.
Deep House. I like deep house. From Dixon to Mano Le Tough. These people have influenced my sound.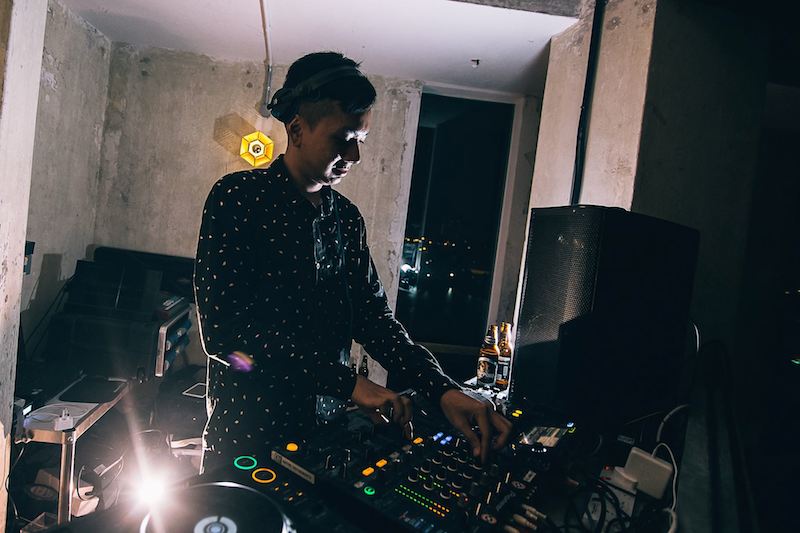 Ton Top 5 des tracks House que tu écoutes tous les jours, partout, tout le temps.
Your Top 5 house tracks you listen everyday, everywhere, anytime.
01 Howling – Shortline – (Frank Wiedemann Remix) :: Innervisions
02 Todd Terje – Snooze 4 Love :: Running Back
03 Midnight Magic – Drop Me A Line (Mano Le Tough Remix) :: Permanent Vacation
04 Basement House – Saturn :: LeftRight Sound
05 &Me – After Dark :: Keinemusik
Peux-tu nous parler de la scène underground de Singapour ?
Could you tell more about the scene in Singapour?
Singapour a une toute petite scène. Tout le monde connaît tout le monde dans ce milieu. Nous avons trois clubs qui organisent de bonnes soirées Techno et House. Mais ce qui est vraiment cool avec ça, c'est qu'il y a pleins d'expats qui font la fête avec nous et c'est toujours bon de voir de nouvelles têtes. J'aime rencontrer de nouvelles personnes.
Singapore has a really small underground scene. I would say almost everybody knows everybody here from the scene. We have like 3 clubs maybe that plays good house/techno music. But what's great about the scene here is also that we have a lot of expats. So it is always nice to see new faces. I love meeting new people.
Quels sont ces 3 clubs dans lesquels nous devons impérativement aller ?
What clubs do we have to go to have a good party?
Kyo Club, Kilo Lounge & Velvet Underground. J'ai toujours fais des bonnes soirées dans ces trois clubs.
Kyo Club, Kilo Lounge & Velvet Underground. I always have a good time at these 3 clubs.
Tu as l'air de bien aimer la sape, j'aimerai revenir sur ta marque de vêtements Karotz, tu peux nous en parler ?
You are fond of clothes, you create Karotz… Could give us some infos?
Oui. Karotz est une ligne de vêtements que j'ai lancé il y a quelques années avec mes potes. Au départ, nous voulions créer des vêtements essentiellement pour la nuit. Mais ça a un peu pris une autre direction. C'est devenu une marque de street-wear qui est bien cool.
Yes. Karotz is a clothing line i started a few years ago with a couple of my buddies. Initially, we wanted to cater the clothing line towards nightlife people. But things don't always goes as plan. So it ended up being like a street wear, which is great.
Ou peut-on en trouver ?
Where could we buy one?
Actuellement, nous sommes principalement basé à Singapour. Pour être honnête tu peux seulement en choper un à Singapour. Mais on peut toujours s'arranger…
Currently, we are mainly based in Singapore. So i would honestly say you can only get it in Singapore haha. But we can always arrange something.
Quel est ton mot préféré ?
What is your favourite word?
Je dis beaucoup « Fuck ». Je peux dire que c'est mon mot préféré.
I say "Fuck" a lot. i could consider it as my favourite haha.
Quel est ton gros projet actuellement ?
What's your next project?
Mettre de l'argent de côté pour me marrier avec l'amour de ma vie Niken Ratrihapsari.
To save up money and married my love one Niken Ratrihapsari.
Merci Md Asri. On aime ton esprit d'entreprise. j'espère te croiser un de ces jours.
Thanks man. Love your opened mind. Hope see you bro !