Proche de Electronic Groove, Off The Record NY et RA+RE, Marité est une DJ active basée à New York. Ses Podcasts puissants et rythmés nous ont vraiment donné envie d'en savoir plus sur cette artiste qui n'a qu'une idée faire groover tous les endroits ou elle met un pieds.
Découvrez Marité en lançant son podcasts pour RA+RE Records, et en lisant le question/réponse qui suit.
BastoElectro : Hello Marité, comment vas-tu ?
How are you Marite?
Maritè : Je vais bien ! et toi ?
I'm good! how about you?
Écoute je vais bien, merci ! Je ne connais que peu de choses sur toi. Est-ce que tu peux te présenter ?
I'm well, thank you! I don't know anything on you. Could you Present you ?
Je m'appelle Maria Otero, je viens du Vénézuela, et actuellement je vis à New-York. Je suis DJ et producteur et les styles musicaux que j'apprécie sont le House et la Techno.
I'm Maria Otero, I'm from Venezuela but I'm currently living in NYC. I'm a DJ and producer, and the music genres I love are House and Techno.



Depuis combien de temps es-tu DJ ?
How long do you play as DJ?
Je joue depuis 5-6 ans
I've been playing for about 5 or 6 years.
Tu vis à New-York… tu vis ici pour vivre ta vie de DJ principalement ?
You live in New York. Do you live here to have a dj life?
Je suis DJ ici mais je fais des études aussi à la NYU (= New York University) dans le management de l'industrie musicale. Aussi je travaille avec l'agence Resolute qui m'aide à faire des dates et de la promo.
I am DJ here but I'm also studying Music Business at NYU, and working with Resolute, helping out with the bookings and promotion.
Que trouves-tu dans cette ville ?
What do you find in this city?
Absolument tout ! C'est pourquoi j'aime autant New York.
Absolutely everything! 🙂 That's what I love about it.

Est-ce que tu joues souvent dans les clubs de NYC et comment est l'ambiance ?
Do you play often at the clubs and how is the atmosphere?
J'ai joué dans quelques clubs et bars, et c'est vraiment fun. L'atmosphère dépend essentiellement du public, mais quand tu joues devant un public qui est là pour apprécier et danser c'est le meilleur.
I've played at some clubs and bars, and it's been a lot of fun. The atmosphere depends on the people, but when you're playing for a crowd that is there to enjoy and dance it's the best.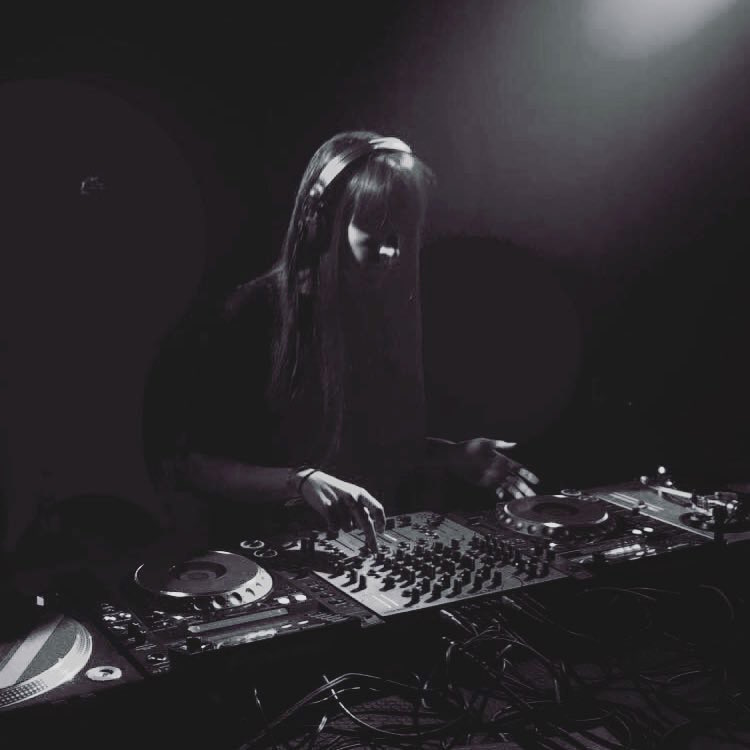 Quelles différences as-tu noté entre le Vénézuela et les USA en matière de musique ?
How is the gap between Venezuela and USA for music?
Le Venezuela traverse une période difficile, et cela touche aussi l'industrie de la musique. Aux États-Unis ça va beaucoup mieux qu'avant. J'espère qu'un jour, je pourrai rapporter tout ce que j'apprends aux States à la maison, et faire de grandes choses !
Venezuela is going through a rough path, and that also affects the music industry there. The US is much better now, but I hope that someday I'll be able to bring everything that I'm learning here back home and do great things!
Peux-tu nous parler de ton style musical ?
Could you tell us about your music style?
Je joue principalement de la musique House. C'est toujours difficile pour moi de décrire mon style. J'aime mixer les genres bien que mon style soit toujours là. J'aime les sons délicats, les mélodies subtiles et les lignes de basse qui font danser sans arrêt. Déroutant ? ahahah.
I play mostly House music. It's always difficult for me to describe my style. I like mixing things up a little, although my essence is always there. I like delicate sounds, subtle melodies, and basslines that make you dance nonstop. Confusing? hahaha
Quelles sont tes influences ?
What are your influences?
Je pense que mes principales influences sont mes expériences et les endroits ou j'ai vécu. Je n'ai jamais été fan d'un artiste. J'aime toujours en découvrir des nouveaux et écouter des nouveaux sons ! Ça évolue constamment.
I think that my major influences are my life experiences and the places I've lived in. I never get too caught up with an artist. I love finding new ones and learning from every new sound! Always evolving.
Ça t'arrive de collaborer avec d'autres artistes ?
Do you collaborate with artists?
J'ai toujours collaboré dans un sens ou un autre avec mes amis DJ. En rentrant chez moi à Caracas au Vénézuela, j'ai organisé une party qui s'appelle « La Disco » avec Gusher, j'ai aussi réuni mes forces avec le No Game crew, mes amis de Maracaibo et pleins d'autres ! Ici à New-York j'ai toujours rencontré des gens incroyables avec qui j'ai partagé de chouette moment. Être DJ peut signifier parfois être solitaire mais il y a toujours une équipe avec qui je travaille pour faire bouger les choses.
I always collaborate in one way or another with my friends who are DJs. Back home I have a party called La Disco with Gusher, but I also join forces with the No Game crew, my friends from Maracaibo, and others! Here in NY I've also found some new amazing people with whom I've shared great moments. Being a DJ sounds like a lonely thing but there's actually always a team with people that work together to make things happen.
Quel est ton mot préféré ?
What is your favorite word?
Je ne sais pas ! Difficile question ahah…
I don't know! Difficult question haha…
As-tu un dernier mot à dire aux gens qui te lisent ?
Have you a last word for people reading you?
La vie est trop courte pour écouter de la mauvaise musique ! Gardez cela en tête.
Life is too short to listen to bad music!! think about it.