La musique hybride, spirituelle et rythmée de Othon nous ouvre les portes sur un monde de sensation, de partage et d'amour. Sa passion pour la musique et son talent révèle un dj/producteur iconoclaste unique. Son style, ses projets en tant qu'artiste et organisateur de soirée ne vous laissera pas indifférent : Welcome to the wonderful World of OTHON!
BastoElectro : Bonjour Othon ! Merci de nous offrir un peu de temps pour discuter. Est-ce que te présenter pour nos lecteurs ?
Hello Othon! Could you tell us a bit about yourself?
Othon : Je suis pianiste et auteur compositeur qui, récemment est devenu DJ et organisateur de soirée. Je suis né à Athènes [Grèce]. Je vis maintenant à Londres.
Hey! I am a London-based composer, pianist and songwriter who recently turned into a DJ, producer and a party promoter too. I was born in Athens, Greece.
Je t'ai découvert sur Soundcloud… Tu as posté de nombreux mix et tes productions. Depuis quand tu joues ?
I discovered you on Soundcloud… you have posted several mixes and some of your own tracks. Since when do you play?
J'ai commencé à faire mes armes pour le World Ayahuasca Conference à Ibiza il y a 2 ans. Je joue du piano depuis que j'ai 5 ans et j'ai commencé à me professionnaliser il y a à peu prés 8 ans.
I did my DJ debut for the World Ayahuasca Conference in Ibiza 2 years ago. I have been playing as a pianist since I was 5 and I started performing my own music professionally about 8 years ago.
Tu es un musicien aux multiples facettes ainsi qu'un DJ! Parle-nous des artistes avec qui tu as travaillé.
So you are a multi-faceted musician as well as a DJ! Tell us a bit more about that and the artists you have worked with.
Au fil de ma carrière musicale, j'ai sorti 3 albums de musique classique dans un style émotionnel, moody et expérimental. J'ai collaboré avec des groupes connus et des artistes talentueux tels que David Tibet et Current 93, Peter Christopherson (l'un des fondateurs de la légendaire bandes électroniques Throbbing Gristle et Coil), Ernesto Tomasini et Marc Almond avec qui nous avons également fait un album «Victorian Psychedelia» ensemble basé sur le chef-d'œuvre décadent Á Rebour de l'écrivain français Huysmans. Aussi, je travaillais avec quelques grands cinéastes comme Bruce LaBruce, et des artistes visionnaires comme Ron Athey et Franko B et créateurs de mode comme Nasir Mazhar.
Through my musical career, I have released 3 albums of emotional, moody and experimental classical pieces and songs, and I have collaborated with some extremely influential bands and talented artists like David Tibet and Current 93, Peter Christopherson (one of the founders of the legendary electronic bands Throbbing Gristle and Coil), Ernesto Tomasini and Marc Almond with whom we also made a 'Victorian Psychedelia' album together based on the decadent masterpiece Á Rebour by French writer Huysmans. Also, I worked with some great film makers like Bruce LaBruce, visionary artists like Ron Athey and Franko B and fashion designers like Nasir Mazhar.
Impressionnant ! Le dernier podcast que j'ai écouté de toi est vraiment éclectique du coup je comprends mieux ta richesse musicale et ou tu vas puisé ton inspiration. Je parle de ton set de 3 heures pour le premier anniversaire du Papa Loko. Tu peux nous donner plus de détails sur cette fête ou tu as joué ?
The last podcast I heard from you, is really eclectic (3 hours podcast for Papa Loko's 1st Birthday ). Could you give us more details about the club and this party?
Je suis ravi que tu aies apprécié ! Faire des fêtes est un moyen pour nous, Gabriel T. et moi, de créer un espace à Londres ou nous pouvons proposer et jouer de la techno underground, de la deep-house et une électronica multi-culturelle qui touche notre for intérieur et créée une possibilité de transformer positivement le public.
Nous essayons de garder au maximum un niveau de qualité musicale et d'offrir une scène aux DJs que nous trouvons extrêmement talentueux, c'est un bon tremplin pour se faire connaître. Le public dans nos fêtes, est également inédit; en plus d'être collectif d'artistes talentueux, Loko semble avoir créé une véritable communauté de clubbers ouvert-d'esprit et conscients; c'est à dire qu'ils viennent aux fêtes avec l'intension de passer un bon moment, et aussi pour se guérir avec dans cet environnement à travers le partage de l'amour et de la musique.
Really glad you like it! The party is a medium for us (me and my partner Gabriel T.) to create a space in London, where we can play and present underground techno, deep house and multi-cultural electronica that touches the inside and creates the possibility for positive transformation to the crowd attending. We try to keep the quality of the music exceptional and give platform to DJs whom we believe are extremely talented and haven't quite shot to fame yet. The crowd in the parties is also unlike most parties around; apart from being a gathering of some really beautiful people on the outside, Loko seems to have created a community or super-open minded and conscious clubbers that come to the party with the intension not only to have a great time but also to heal themselves and the environment through sharing in love and music.
Comment tu sélectionnes ta musique pour contribuer à cet atmosphère dont tu viens de nous parler et comment tu compiles tout ça pour créer un mix unique ?
How do you select your music and how you create a unique mix?
J'aime écouter différent style de musique et je sélectionne uniquement la musique quand je pense qu'elle a quelque chose de spéciale. Bien que je joue principalement de la musique Techno, si j'aime une musique qui n'est pas dans les sélections de mes playlists de DJ, j'essaierai en de la jouer dans mes sets. Souvent, je pense en avance les moments spéciaux de mes sets, et j'ai besoin de les créer et de les mettre en action, pour voir si je peux les jouer en soirée. Quelques fois je fais des performances hybrides lives/dj sets ou j'utilise Ableton Live et Traktor pour avoir encore plus de possibilités que les seuls controllers de Traktor et j'ajoute plus d'effets live dessus.
I love listening to different kinds of music and only ever select music I think is special in some way. Though I mainly play techno, if I like something and it does not fit my DJ sound, I will try to change it somehow and insert it into my sets. Often I would think in advance for special moments in my sets and, often I would need to create them and practice them in advance, so I can deliver them live. I sometimes do hybrid live/DJ performances where I use Ableton Live together with Traktor in order to have even more possibilities than those provided with advanced Traktor controllers alone and add more live elements on top.
Alright. Tu es producteur, je pense à tes productions Japan Suite et Pasha Dume, dans ton travail on sent la voix spirituelle. Que cherches-tu dans la musique? Comment tu créées tes propres tracks?
You are a talented producer. What do you look for in music? How do you produce your releases?
Je n'ai pas vraiment de routine tant sur mon process de création et production. Je suis le flow, et je vois ou le flow m'emmène. Parfois, je voudrais commencer par ce que je dispose. Par exemple, quand j'ai réalisé Puca Puca et Tayti en collaboration avec un couple de chamanes au Pérou pour mon dernier album Pineal, j'ai commencé à enregistrer leurs voix, chantant leurs wonderful Ikaros (= chansons magiques des plantes visionnaires sacrés qu'ils cultivent, comme Ayahuasca et Sananga) ainsi qu' avec les percussions qu'ils jouaient. Ensuite, j'y ajoutais des synthés et tous les autres effets par dessus.
I don't have a rule of how I am producing, I rather go with the flow and see where the flow takes me. Sometimes, I would start with what I have available. For example, when I did Puca Puca and Tayti with a couple of shamans from Peru, for my last album Pineal, I started with recording their voices singing their wonderful Ikaros (magical songs of the sacred visionary plants they are working with, like Ayahuasca and Sananga) and with the percussion they were playing. Then I started adding synths and all the other elements on top.
Tes productions sont-elles sorties sur des labels ?
Are your actual and future releases are on a label?
Mon premier album «Digital Angel» était sur le label culte et maintenant inexistante Durtro-Jnana, la musique par Antony & The Johnsons, Baby Dee, Current 93 et ​​autres. Mes dernières productions sont sur Strike Force / Cherry Red records, un label qui a publié des artistes tels que Marc Almond et Dusty Springfield. En ce moment, comme ma musique est plus dans un registre électronique et classique, je cherche un label qui convient le mieux à ces styles.
Yes, my first release 'Digital Angel' was on the incredible but now non-existent cult label Durtro-Jnana, that released music by Antony & The Johnsons, Baby Dee, Current 93 and other, whereas my latest releases are on Strike Force/Cherry Red Records, a label that has been releasing artists such as Marc Almond and Dusty Springfield. However, as my music moving more to the electronic and classical domain, I am on the lookout for a label that would suit better these styles.
« J'essaie de voir si je suis connecté avec quelque chose de plus haut que moi quand j'écris et produis. »
Et quel est ton état d'esprit quand tu produis ?
And what is your mindset when you create a track?
J'essaie de voir si je suis connecté avec quelque chose de plus haut que moi quand j'écris et produis. Si c'est le cas, je sens que je suis sur une bonne voix pour produire.
Et ça arrive que le flow s'interrompe suite à de la technique et par le fait que je ne sache pas comment exprimer mon idée que j'ai en tête sur mes machines.
I try to see if I am connecting with something higher than myself when I write or produce. If that's the case, I feel like I am on the right track. Sometimes, the flow is interrupted due to technical issues or because I don't exactly know how to translate an idea I have on my mind technically. Mais heureusement, je m'améliore chaque jour!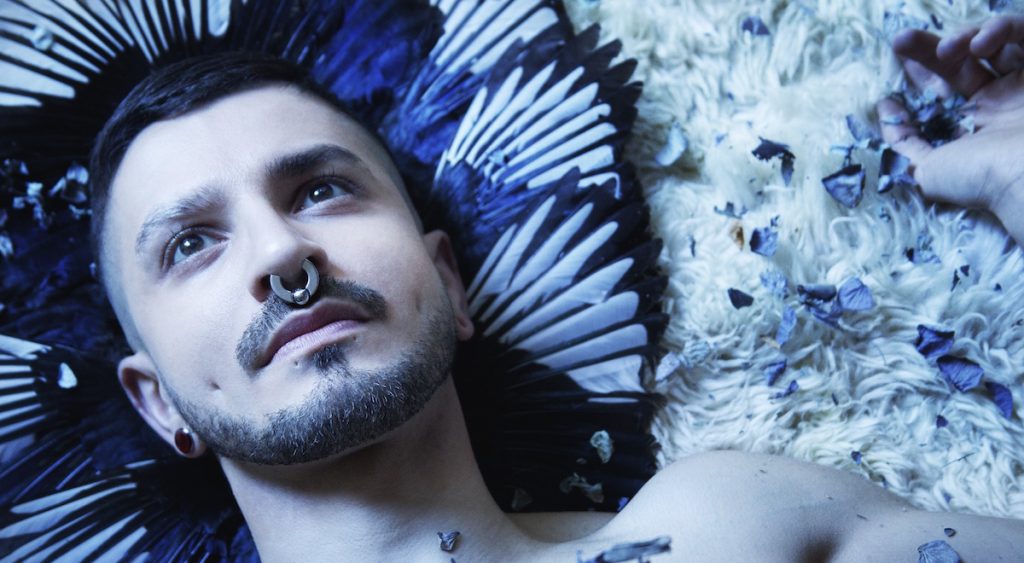 Ton Top 5 des tracks que tu affectionnes
Your Top 5 best tracks ever… and why these are?
Difficile à dire! Mes goûts vont au-delà des limites de la musique électro et sont en fonction des périodes… mais certains de mes coups de coeur sont:
Gosh, it is hard to say! My likings goes beyond the boundaries of dance music and go by periods but some of my very favorites are:
01. Alex Niggeman – Divergent : ce track a groove génial et capture une magie, je joue ce track régulièrement dans mes sets et ça transcende le public.
02. Worakls – From Now On : je trouve que ce gars est un génie et toutes ses productions sont des chef-d'oeuvres. La France a beaucoup de talents dans la catégorie musique!
03. Current 93 – The Descent of Long Satan and Babylon : en fait c'est tout l'album Thunder Perfect Mind que j'aime. Je suis entré dans le monde de Current 93 quand j'avais 15 ans et je suis toujours un grand fan, même après avoir commencé à travailler avec eux et David Tibet. C'est un véritable poète mystique et les œuvres qu'ils créent t'amène à une terre magique qui a été adoptée par Bjork, Nick Cave, Marc Almond, Antony & the Johnsons (maintenant Anohni) et d'autres.
04. Antony & the Johnsons – I Fell in Love with a Dead Boy : l'une des premières chansons d'Anthony et quelle chanson ! Elle me fait toujours pleurer. Il (ou elle) est une force extraordianaire !
05. José Larralde- Quimey Neuquen (Be Svendsen Edit) : L'original est tout simplement sensationnel et Be Svendsen a vraiment ajouté ce qu'il fallait pour la jouer sur le dance-floor.
01.Alex Niggeman – Divergent: It has a great groove and captures a magic that however many times I play it in my set, people will always go crazy.
02. Worakls – From Now On. I think the guy is a genius and most things he creates are masterpieces. France has some amazing talents when it comes to music!
03. Current 93 – The Descent of Long Satan and Babylon (or in fact, all Thunder Perfect Mind album). I got into the world of Current 93 when I was about 15 and I am still a huge fan, even after I started working with them and David Tibet. He is a true mystical poet and the works they create take you to a magical land that has been embraced by Bjork, Nick Cave, Marc Almond, Antony & the Johnsons (now Anohni) and others.
04. Antony & the Johnsons – I Fell in Love with a Dead Boy: One of Antony's first songs and what a song it is!. It always makes me cry. He (or now, she!) is an extraordinary force!
05. José Larralde- Quimey Neuquen (Be Svendsen Edit): The original is just stunning and Be Svendsen has really added to it making it suitable for the dance floor as well.
Tu peux nous parler de tes events que tu organises : »Papa Loko » ?
Tell us more about your party 'Papa Loko'?
J'ai commencé à organiser Papa Loko un an et demi et, dernièrement, mon partenaire à long terme Gabriel T m'a rejoint en tant que promoteur, ce qui génial car il est aussi passionné par les soirées que j'organise. Nous essayons d'organiser des événements spéciaux et magiques sur toute la ligne : de l'endroit insolite et inspirant du Rucher Studios, du sound-system extraordinairement propre de Flipside, en passant par une offre de cocktail sain aux shooters de cacao en passant par un système de billeterie que nous avons créé, prenant en charge les personnes qui ne peuvent pas se permettre de se payer une entrée! Nous voulons vraiment créer une expérience de fête idéale! Et oui, c'est moi qui finit les soirées « Papa Loko » avec un closing set lorsque l'atmosphère est vraiment électrique !
I started organising Papa Loko a year and a half ago by myself and lately, my long-term partner Gabriel T, joined me as a promoter, which is great as he is as passionate about the party as I am. We try to keep the events special and magical in every respect, from the unusual and inspirational environment of Apiary Studios, to the extraordinarily clean sound provided by Flipside sound systems, the gorgeous healthy cocktails and cacao shots and even the new ticketing system we created, which supports people that cannot afford to pay! We truly want to create the ideal party scenario! And yes, I do the closing set on each party, when the atmosphere is truly electric!
Peux-tu nous parler aussi de Pan Muzik ?
Could you present Pan Muzik ?
Pan Muzik c'est ma manière de dire que je créé de la musique qui n'est pas nécessairement définie et limitée par un ou plusieurs styles. Pan en grec signifie « tout » donc Pan Muzik est un terme générique qui laisse place à la créativité artistique de la faire propspérer librement sans frontières. Certaines émotions que je traduis le mieux au piano et violoncelle par exemple, et d'autres avec ma techno cathartique… c'est cette souplesse et fluidité de pouvoir s'exprimer ainsi que j'apprécie vraiment.
Pan Muzik is my way of saying that I create music that is not necessarily defined or limited by one or even two genres. Pan in Greek means 'everything, all' so Pan Muzik is an all-inclusive term which allows for artistic creativity to flourish freely without boundaries. Some feelings I can express them better on the piano and the cello for example and others with cathartic techno..There is a flexibility and a fluidity that I really appreciate.
Quels sont tes projets actuellement ?
What's your projects for now?
Je suis entrain de terminer le mastering de mon prochain album Kodama qui est un album instrumental avec de nombreux passages : de pianos mélancoliques, de synthé analogique, d' effets électronique subtiles et parfois pas, des instruments à cordes. Et je travaille en parallèle sur mon premier album Techno, c'est un projet que j'ai toujours voulu faire, je suis vraiment excité. Et je continu toujours mon travail d'écriture de nouvelles compositions sur piano pour des projets futurs.
I just finished mastering my last album 'Kodama', an instrumental album full of gorgeous melancholy pianos, analog synths, subtle (and not so subtle) electronic effects and strings. I am also working on my first techno record, something I always wanted to do and I am very excited about, as well as writing new compositions on the piano for a future project.
Quel est ton mot préféré ?
What's your favourite word?
J'en ai 2 : Esprit et Musique
Will have to be two. Spirit and Music
Un dernier mot pour les gens qui te lisent ?
A last word for people who read you?
Essaie d'écouter et croire en ta voix intérieure. Elle saura au mieux ce que tu dois faire.
Always meditate and once you have been meditating for a while try to listen and trust the voice inside. It will know better and give you the right answer.
Écoutez Othon sur Soundcloud
Like Othon sur FB
Visit Othon's official website : http://pajdic.com/
Pictures: © Predrag Pajdic