Association Lyonnaise, Unusual Records est un label crée en 2014 par deux passionnés de musique Techno à la recherche de liberté et d'indépendance. Depuis, Le projet suit son cours et arrive même à glisser une sortie dans les sets de Nina Kraviz lors de l'Exit Festival en Serbie et du Love Family Park en Allemagne. Afin d'en connaitre un peu plus sur ce projet, nous avons demandé aux deux compères de se prêter à un exercice inhabituel d'interview croisé.

Adrien (Directeur adjoint) : Salut Florian, peux-tu nous donner une chronologie et un historique de notre rencontre?
Hi Florian, can you build a chronology and a summary of our meet ?
Florian (Directeur du label) : Notre rencontre se fait en 2010 alors que je me lance sous mon pseudo Don Serata avec des podcast Itunes, puis je rentre en contact avec Electro Sound Radio ou tu me repères parmi le Top 10 et intègre donc la grille de programmation. Ce partenariat me permet ensuite d'inviter sur mon horaire plus de 85 artistes que j'affectionne (TWR72, Digitalism, Costello, Mumbai Science,…)
Our meet started in 2010 when I launch my Itunes podcast under the alias Don Serata, we made contact through Electro Sound Radio where you spot my podcasts in the Top 10 and we agreed to include me in the weekly schedule. That partnership will later allows me to invite on my broadcast more than 85 artists that I appreciate (TWR72, Digitalism, Costello, Mumbai Science,…)
Pourquoi avoir voulu se lancer dans la création d'un label, le DJing ne te suffisait plus ?
Why did you want to start a label records, Djing wasn't enough ?
A cette période, le DJ commençait à devoir produire ses sons pour se démarquer, j'ai donc, en parallèle des podcasts et radioshow, entamé la production de morceaux en signant sur des labels français puis étrangers comme Coco Machete. Mais le temps d'attente pour avoir une réponse et les boites mails saturées m'ont poussé vers cette idée et je t'ai donc proposé de monter un label puisque nous avions déjà bien bossé sur la radio ensemble. Ce fut le début de notre association.
At that time, the DJ had to produce his own tracks to stand out, so in parallel of the podcasts and radioshows, I began producing tracks released on French and International labels like Coco Machete. But the waiting time to get answers and the full mailboxes made the idea of creating the label more sense to me. Our previous collaboration on the radio went well, so I asked you to join me and our association began.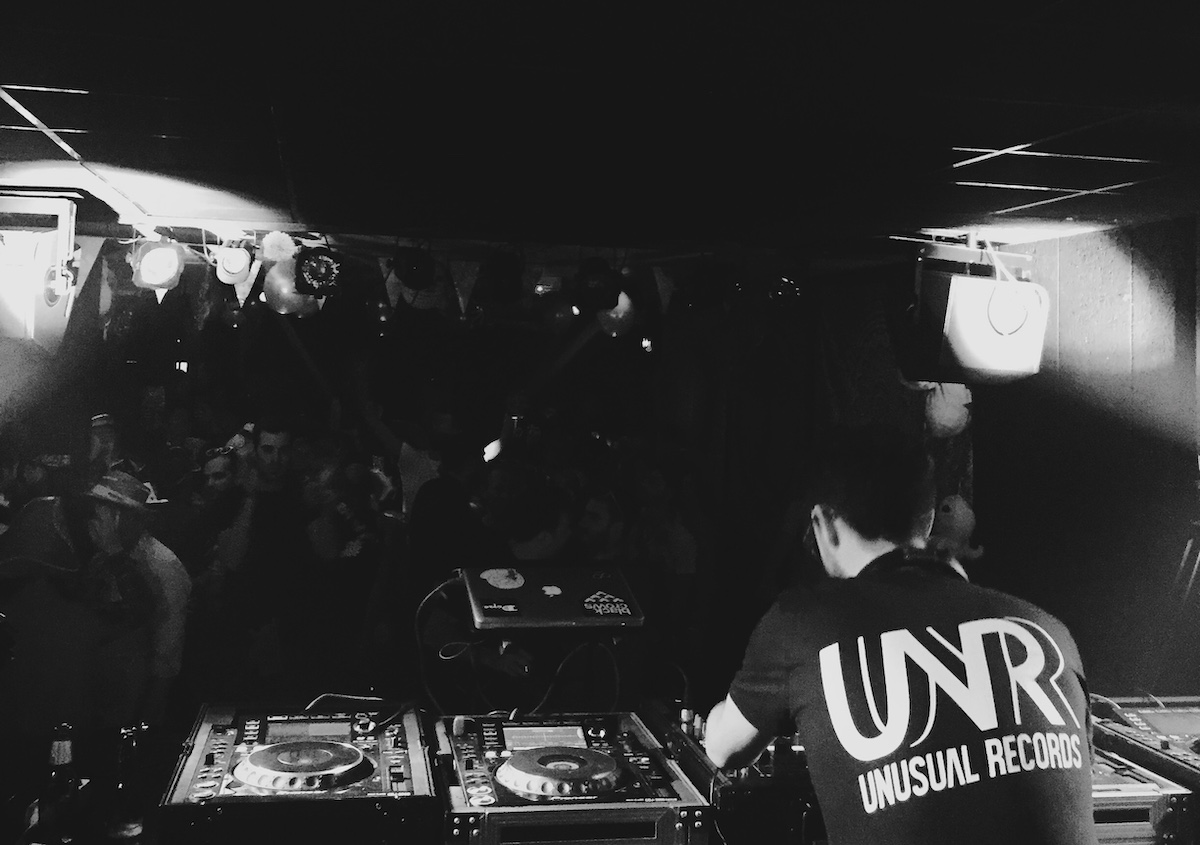 Unusual Records est donc lancé, pourquoi avoir choisi ce nom ?
Unusual Records is created, why choose this specific name ?
On a réfléchi un moment sur quelle identité nous souhaitions mettre en avant, noyé parmi tant d'autres labels . Le projet depuis le début a pour objectif de débrider la créativité de l'artiste en proposant des créations originales, en laissant la liberté dans la construction des morceaux, du style, des artworks, sans filtre ! On souhaite des créations personnelles, insolites donc UNUSUAL. On a pour habitude de dire qu'on délivre des Ovnis dans cet univers.
We thought a long time about what identity we wished to promote, being a little fish in the ocean of labels. Since the beginning, the project is to unleash the creativity of the artist by proposing original creations, letting a full freedom in the construction of the tracks, the style, the artworks, without any filters ! We look for personal creations, something unusual. We're used to say that we deliver UFOs in the universe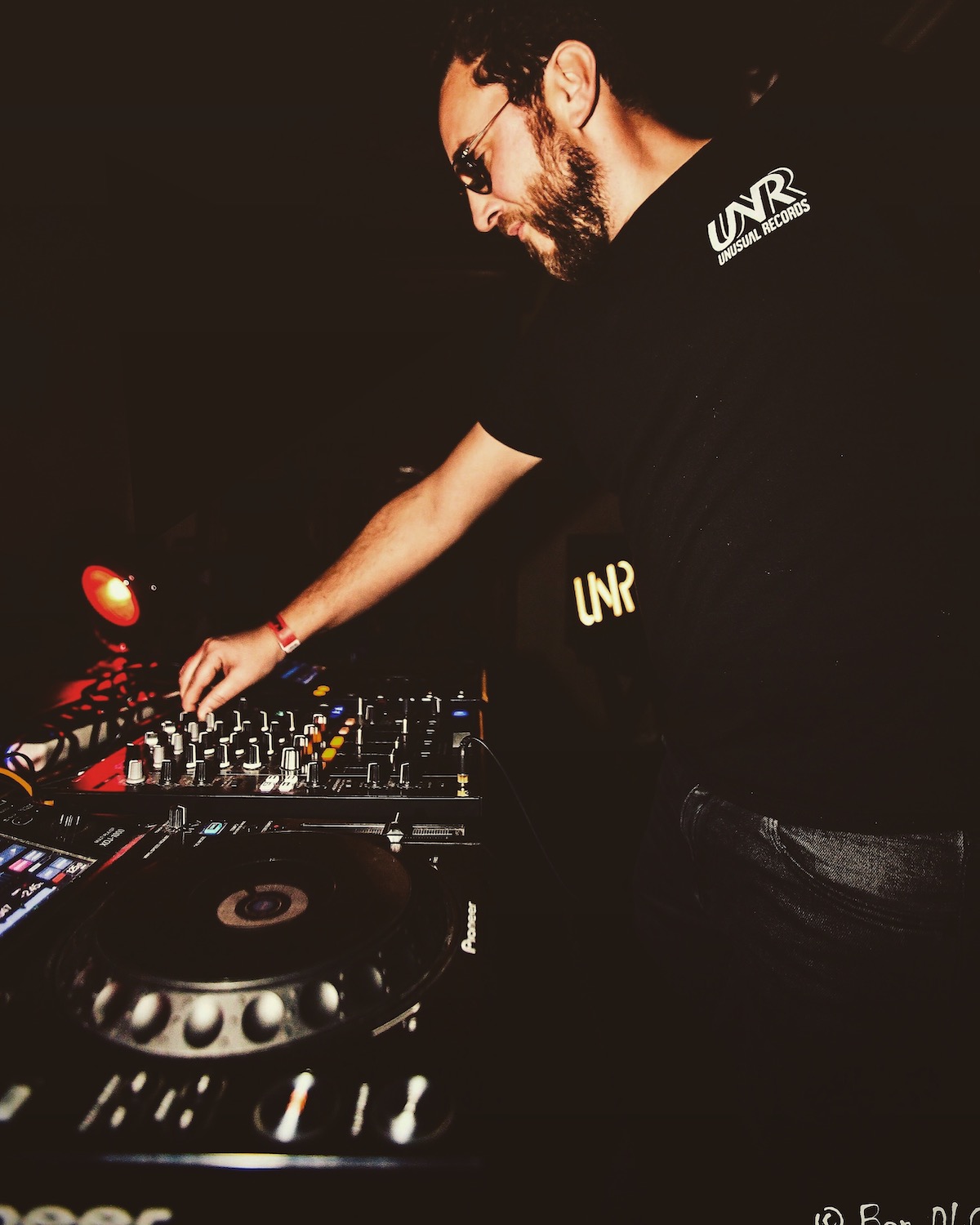 En parlant d'univers, peux-tu indiquer quelle influence à le label, ce qui est recherché ?
Speaking of universe, can you tell us more about the label influences, what you're looking for ?
Moi je suis plus Techno, Toi tu as une touche plus House, du coup c'est un peu des 2 même si les grosses influences se tournent vers des artistes comme Terence Fixmer, Spencer Parker, Marcel Dettmann. Nous allons nous ressourcer à Berlin de temps en temps.
My influences are Techno, Yours got more House, so it's some kind of a mix between both but to put names on some influences we have, we could name : Terence Fixmer, Spencer Parker or Marcel Dettmann. From time to time, we're taking trips to Berlin to recharge.
Tu peux faire le guide touristique de Berlin du coup, qu'est ce que tu conseillerais ?
Can you guide us on what to do in Berlin, what would you recommand?
La culture est assez incroyable , de ce que j'ai pu expérimenter et pour faire court : le Trésor, le côté chill et l'ambiance du CdV, les disquaires tels que Space Hall et bien évidemment : les sandwichs du Burgermeister et le currywurst du Curry 36.
The Berlin's culture is unbelievable, from what I experienced and to resume in a few places : Tresor Club, the atmosphere of CdV, the record stores as Space Hall and clearly : Burgermeister sandwich and Currywurst from Curry 36
Le label a été crée afin que tu puisses être libre de tes sorties musicales, les gens se demandent peut-être si celui-ci est aussi accessible à d'autres artistes ?
The label was created to produced your own releases, can people apply and reach you to do the same ?
Evidemment, les premières sorties ont été exclusivement de moi, mais j'ai très vite voulu faire profiter du réseau de distribution aux copains ou aux jeunes artistes avec qui le feeling passait bien. On a ainsi pu accueillir des artistes locaux comme Tightrops, ØuterSunset, des nationaux (Tiam Wills, The KLN), des producteurs Belges (The Madzfriendz, SLVSTR, et d'autres), et prochainement un artiste international. Chacun avec son propre style tout en restant connecté à cette musique Techno au son sens large.
Yes Absolutely ! I released the first tracks on the label, but I quickly wanted to share the network distribution to friends and young artists that produced tracks I enjoy. So we signed some locals producers like Tightrops, ØuterSunset, French Djs (Tiam Wills, The KLN), Belgian artists (The Madzfriendz, SLSVTR, and more) and you'll discover soon an international artist. Each and everyone of them have a proper style while remaining driven by Techno music.
Quel sont les moyens et les critères de sélection du coup ?
How do you select the releases and what criteria do you have?
Nous écoutons tous les liens et demo que nous recevons (Soundcloud ou WeTransfer) afin de se faire un avis. On ne cherche pas à sortir une Techno bien précise et formatée, on souhaite juste être surpris à l'écoute, un morceau dynamique, avec du groove et une cohérence tout au long des minutes. J'ai moi même pu sortir des morceaux Acid, de la Techno Instrumental ou bien Expérimental.
Soyez créatifs !
We listen every links and demos we receive (Soundcloud or WeTransfer) for a first hearing and make an opinion. We don't have specific standards, we just want to be surprised during the discovery of the track, a dynamic track with groove and coherence along the minutes. Myself, I released Acid tracks, Instrumental and Experimental Techno.
Just be creative
Si tu avais pu distribuer 5 morceaux via le label, lesquels choisirais-tu ?
If you could have signed tracks already released, what would be your top 5?
Sans ordre de préférence particulier, j'aurais adoré diffuser : 1/ Renart – Hors Sentiment
2/ Vladimir Dubyshkin – Belissimo
3/ Ben Klock – Subzero (Funktion-Regis remix)
4/ Nina Kraviz – Hi Josh
5/ DJ HMC – Come On
Without any particular order, I would have released :
1/ Renart – Hors Sentiment
2/ Vladimir Dubyshkin – Belissimo
3/ Ben Klock – Subzero (Funktion-Regis remix)
4/ Nina Kraviz – Hi Josh
5/ DJ HMC – Come On

Es-tu satisfait du projet depuis sa création ?
Are you satisfied with the project since you created it?
Le modèle Label en lui même est de plus en plus accessible aux producteurs, et un artiste indépendant peut diffuser lui même via des plateformes comme Bandcamp. Beatport a même lancé sa version Hype du site pour gagner en visibilité parmi la masse de musique disponible à ce jour. Mais le réseau de distribution que nous avons pu mettre en place au cours de ces années nous permet surtout une accessibilité via Spotify, des références multi-plateformes et des écoutes à travers le monde (Russie, USA, Mexique…).
The label model is nowadays available to a lot of producters, and an independent artist can easily proposed his tracks on platforms such as Bandcamp. Even Beatport recently launched a Hype Version on their website to help labels gain visibility among the thousands of tracks released every week. But the distribution network we built so far and the experience we made releasing different tracks is satisfying and we reach a lot of people across the world with streaming platforms like Spotify and, thanks to multi-platforms referencing, we've got consumers from different countries (Russia, USA, Mexico, …)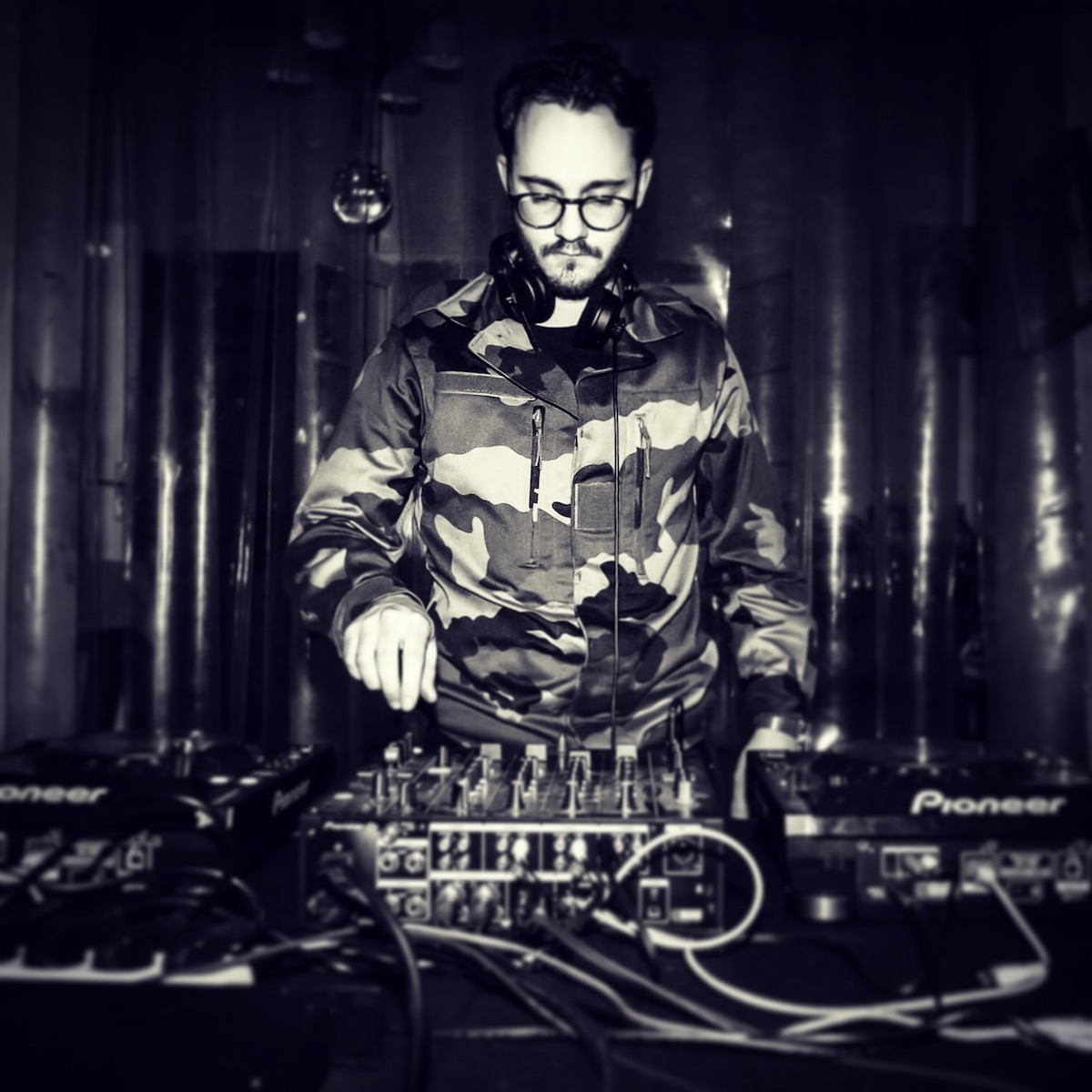 Le label se contente donc de distribuer en digital ?
The label is staying an only digital tool ?
C'était en effet l'idée première puis étant un collectionneur de vinyles et de goodies en tout genre, on a produit cette année en série limité divers objets (Mugs, Tote Bag,…) ainsi qu'un vinyle exclusif que nous avons offert aux soutiens proches.
Le support de Nina Kraviz et d'autres pages Techno sur différents réseaux sociaux nous ont aussi poussé à créer des cassettes audio de l'EP CHICAGO (cf Bandcamp Don Serata).
It was the first idea but as a vinyl and various goodies collector, we produced in a limited series a few objects (Mugs, Totebag) with our logo, and also a exclusive vinyle we offered to closed fans.
The support of Nina Kraviz and Techno pages on social media also pushed us to create audiotapes of the Chicago EP (available on my Bandcamp : Don Serata)
On peut donc compter sur Unusual Records pour se diversifier ?
So Unusual Records will vary his activities ?
OUI, nous participons déjà à des soirées Techno ou j'ai pu jouer nos productions.
Le label s'associe aux soirées Kamin Room en collaboration avec d'autres acteurs passionnés de Techno. Affaire à suivre pour d'autres événements.
On est ouvert à toutes personnes motivées pour travailler avec nous.
YES, we already participate to Techno parties where I played our releases.
We are currently working in a partnership with Kamin Room and other passionates of Techno music. It's a work in progress.
We're open to every dedicated person who want to work with us and enjoy our love for the music.
Qu'est ce qu'on peut attendre pour 2019 ?
When, what can we expect in 2019 ?
Plusieurs sorties : le retour de The KLN et sa techno rythmée, la suite de mon EP Chicago appelé « Manchester » avec un single Acid, Un titre en téléchargement gratuit de ØuterSunset (Mirage) et comme déjà mentionné plus haut, un artiste américain en cours de signature. On est aussi en train de bosser sur une compilation regroupant les artistes qui ont rejoint l'aventure au cours de ces années.
A few releases are already planned, the comeback of The KLN and his rhythmic Techno, the sequel of my Chicago EP called « Manchester » with a single Acid Tracks. There will also have a free download from ØuterSunset(Mirage) and as previously announced a American producer is signing for the first time with us. We're thinking of releasing a compilation with exclusive tracks from all the artists that we've worked so far.
Suivre Unsual Records sur Facebook
Ecoutez les sons de Unsual Records sur Soundcloud
Ecoutez ØuterSunset sur Soundcloud
Ecoutez Don Serata sur YouTube
Crédits photo : © Ben DLG