VALÉ je l'ai découverte sur Soundcloud avec un track que l'on aime en commun Untitled 001 de Rezystor. Delà est née cette envie de découvrir son monde et sa musique. On s'est contacté, je lui ai posé quelques questions et elle a décidée de nous offrir le PépitesTroniques Podcast 12. Une balade Techno ou chaque morceau s'imbrique impeccablement les uns après les autres. VALÉ nous en parle dans l'interview qui suit.

Lancez le PépitesTroniques Podcast #12 with VALÉ et dévorez son interview. Enjoy!

[button size='medium' style= » text='Découvrez la tracklist de VALÉ ici' icon= » icon_color= » link='https://pepitestroniques.com/pepitestroniques-podcast-12-vale/' target='_self' color='#000000′ hover_color='#ffffff' border_color='#000000′ hover_border_color='#000000′ background_color='#f6f6f6′ hover_background_color='#000000′ font_style='normal' font_weight='400′ text_align='center' margin= » border_radius='0px']


Bastien de Pépites Troniques : Bonjour Valé comment vas-tu ? Est-ce que tu peux te présenter ?
Hello VALÉ how are you? Could you introduce yourself?
VALÉ : Je m'appelle Valentina, J'ai 24 ans et suis originaire de Aix-la-Chapelle en Allemagne. Je vis actuellement à Berlin depuis 1 an et demie. Je travaille dans un record-shop et j'étudie dans une école supérieure de mode. Bouger à Berlin est actuellement l'une de mes meilleures decisions, cette ville me donne de l'énergie, de la créativité et un univers infini d'influences musicales. Et c'est l'une de ces raisons qui m'a vraiment décidée à mixer pour mettre en avant ma passion pour la musique.
My name is Valentina, I am 24 years old and from Aix-la-chapelle in Germany. I moved to Berlin one and a half years ago. I work in a record store and study textile and clothing management. Moving to Berlin was one of my best decisions ever, this city gives me so much energy, creativity and most of all a great music influence. This is also a reason why I decided to make djing my hobby.
Je t'ai découvert sur Soundcloud, tu as posté déjà pas mal de podcasts et mix depuis quand joues-tu ?
I discover you on Soundcloud, you post full of mix since when do you play?
Je joue depuis août 2015 et mon premier mix posté est celui de mon tout premier set en club. J'ai joué un set d'une heure et l'ai enregistré. C'était une vraiment bonne expérience et depuis cet évènement, je cherche encore et encore à revivre ce moment.
I play since august 2015 and my first mix is actually also my first time ever playing in a club. I played a one hour set and recorded it. That was such a great experience and since that point I wanted more of that amazing feeling.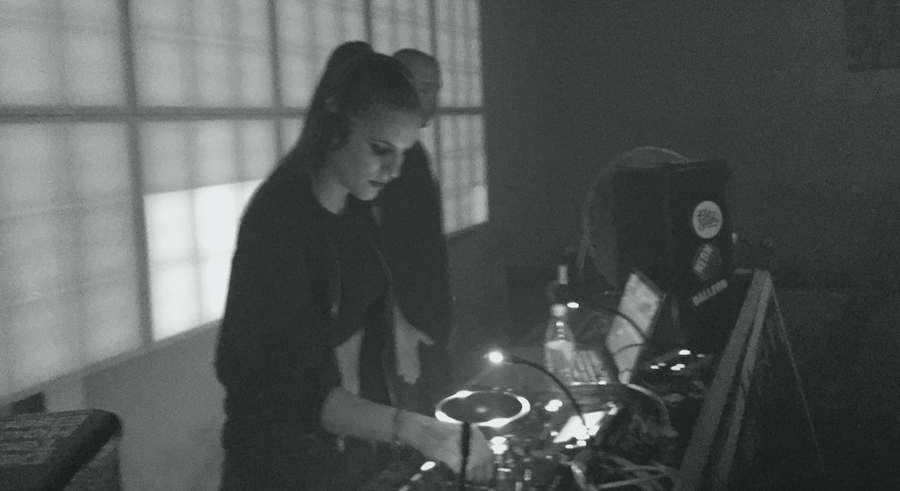 La Techno semble prendre une part importante dans ta vie, tu peux nous en dire plus ?
Techno is a deep part of yourself how could you explain that?
Quand j'étais jeune, j'écoutais principalement du Hip-Hop, de la Soul et des des genres musicaux variés que mes parents partageaient avec moi. Le Hip-Hop était et est prend toujours une part importante dans ma vision musicale. Vers 2007 j'ai commençais doucement à découvrir quelques tracks de musique électronique et au fil des années j'en écoutais davantage, je voulais toujours en avoir plus. Je me souviens la première fois que j'ai dansé sur de la musique électronique, c'était vraiment différent. J'ai découvert beaucoup de genres différents et je me suis fais happée dans le tourbillon Techno. Depuis que je vis à Berlin je suis tombée amoureuse de la techno deep and dark. Je me suis pas mal perdue dans cette musique hypnotique qui dégage une réelle sensation à mes yeux, l'esprit s'arrête de penser seuls mon corps et mes émotions me guident. J'aime beaucoup écouter et jouer cette Techno.
When i was young, I mainly listened to hip hop, soul and stuff my parents showed me. Hip-hop was and still is a huge part of me. Around 2007 I slowly started to discover electronic music and over the years I learned more and more about it. I remember the first time i danced to electronic music, this was so different. I discovered lots of different genres and got into the techno swirl. Since i live in Berlin I discovered my love for dark and deep techno. Getting lost in this hypnotic music is such an amazing feeling, the brain stops thinking and only my muscles and emotions are guiding me. I enjoy listening to it so much and playing it is even better.
Que cherches-tu dans ça ?
What do you look for in this music?
Je cherche à sortir de ma routine. Je suis cérébrale mais quand j'écoute de la Techno, mon esprit s'échappe et je peux me libérer.
I look for an escape from the daily life. i am a « thinker », but when i listen to techno, my mind gets free and i can let go everything.

Tu fais parties de NOTWOHNUNG. Tu peux nous parler de ce projet ?
You're a part of NOTWOHNUNG. What the idea behind this project?
NOTWOHNUNG est un collectif de DJs de Bonn, en Allemagne. Ce sont des amis qui ont créés ça il y a quelques années. On les a rejoins, Nicolaj et moi en 2015. Au début, je m'occupais pas mal des boulots administratifs et du marketing au sein de l'équipe, mais ensuite j'avais vraiment envie de jouer. Nous jouons maintenant tous les mois dans un club à Bonn qui s'appelle « Tante Rike ». Nous sommes comme une petite famille et nous aimons ce que nous faisons.
NOTWOHNUNG is a dj collective from bonn in germany. Really good friends of mine founded it several years ago. In 2015, Nicolaj and me joined them. At first, I did only administrative jobs like marketing and organising, but then i also decided to play. We do monthly parties in a club in Bonn called « Tante Rike ». we are like a small family and love what we are doing.
Le dernier podcast que j'ai entendu de toi c'est un b2b avec Nicolaj Tann, tu peux nous présenter ce dj ?
The last podcast I heard is a b2b with Nicolaj Tann, could you present him?
Nicolaj est mon ami et mentor. I m'a initié au mix et il est aussi l'une des principales raisons de mon lancement dans ce projet.
Nous partageons cette même passion pour la musique et nous passons la majeure partie du temps ensemble à la découvrir et l'apprécier. Cela fait 2 ans qu'il joue et qu'il me motive pour jouer avec lui. Nous aimons bien l'idée du de jouer en b2b en faisant ce que l'on aime c'est vraiment intense. En Octobre 2015, c'était a première fois que nous jouions ensemble dans un club et que nous enregistrions le mix. Comme je te l'ai dis plus haut c'est le mix enregistrait dans un club. Nous cultivons tous les deux un univers musical different et un style différent mais pour nous ça se fond parfaitement dans notre collaboration et c'est beaucoup plus sympa.
Nicolaj is my boyfriend and mentor. He taught me how to play and he was also a main reason why i started.
We both love music and we both spend so much time together on discovering new music and enjoying it. He already plays since 2 years and he motivated me to start with it too. We liked the idea of playing b2b, doing our hobby even more intense. So in October 2015 it was the first time playing together in a club, and we recorded it. Again it's a live recording from the club. We both have a different style of music and playing but for us it fits perfectly and working together is a lot of fun.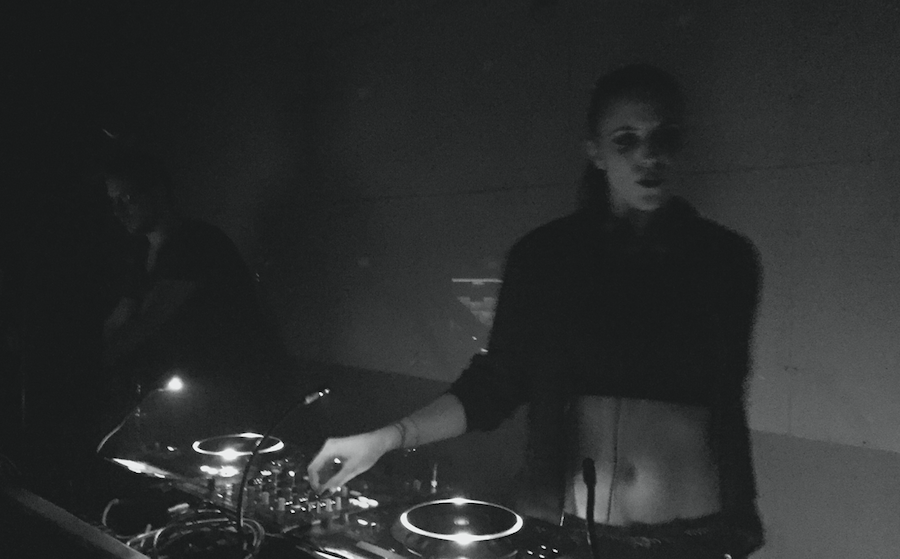 Quels sont tes prochains projets ?
What's your projects for now?
Comme je te le disais NOTWOHNUNG organise une soirée chaque mois et la prochaine en Mars est spéciale. Nous invitons Monoloc, ce sera la première avec un « guest dj ». Nous assez excité à l'idée l'accueillir, j'aime ça. C'est vraiment un honneur de jouer à ses côtés, je vais devoir me préparer pour assurer.
As I mentioned we have a party every month but the next one in march is special. We have our first guest dj, Monoloc. We are really excited to have him, I love his work. It's an honour to play ahead of him, so i will prepare myself in the best way I can.
Peux-tu nous en dire un peu plus sur le PépitesTroniques Podcast que tu as préparé ?
Could you tell us about the exclusive Pépites Troniques Podcast?
Avant tout, je n'ai pas cherché à jouer les derniers tracks en vogue ou jouer des morceaux de producteurs exclusivement underground. Je l'ai fais en fonction du feeling que je veux faire passer. J'ai besoin de tracks qui ont dégage quelque chose d'unique.
C'est mon principal objectif. Je souhaite raconter une histoire avec la musique que je joue et je fais passer l'énergie spéciale que procure la musique Techno.
Donc pour ce podcast, j'ai choisis vraiment des pistes puissantes et significatives à mon sens, la track Seahnak de Vaal en est l'exemple. Ce disque a toujours bien résonné, il est à la fois tellement singulier que je m'y perd à chaque écoute.
First of all: I don't care about only playing the newest tracks or only playing tracks of underground producers. I care about the feeling i want to convey, I need tracks which have that special feeling inside.
This is my main focus. I want to tell a story with the music i play and express the special energy of techno. For the podcast I chose really strong and meaningful tracks, for example Seahnak by Vaal. This track always leaves me stunning, it's so unique and i get lost into it every single time.
Ton mot préféré ?
What's your favorite word?
Fluchtpunkt
Vanishing Point
Un dernier mot à faire passer ?
A last word?
Il n'y a pas de joie, sans tristesse, ok
ain't no happiness, ain't no sadness, ok.
Thank you VALÉ, we support you!

[button size='medium' style= » text='Découvrez la tracklist de VALÉ ici' icon= » icon_color= » link='https://pepitestroniques.com/pepitestroniques-podcast-12-vale/' target='_self' color='#000000′ hover_color='#ffffff' border_color='#000000′ hover_border_color='#000000′ background_color='#f6f6f6′ hover_background_color='#000000′ font_style='normal' font_weight='400′ text_align='center' margin= » border_radius='0px']